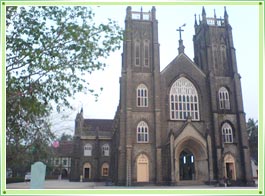 Portuguese missionaries established one of the most important pilgrim centres of the Christians in Kerala, popularly known as St. Sebastian Church, 22 kms; north of Alleppey. This church is near Sherthallai. The feast of St. Sebastian is held here every January.


Churches of Kerala present a lovely sight that should not be missed by a visitor. St. Sebastian Church is considered to be an important pilgrim centre for the Christians of the state. Situated 22 kms north of Alleppey, this church was built by the Portuguese missionaries. St. Sebastian Church is very close to Sherthallai. Every year in the month of January, a grand feast of St. Sebastian is organized here which is visited by a lot of people. This 11 day feast of St. Sebastian, held generally in the second week of January has now become a well known event in the map of tourists visiting the place.
Tourists coming to witness the festival of St. Sebastian are able to witness some rituals, which appear pretty peculiar for the first time to them. Urulu nercha, where the devotees crawl a large stretch, from the church to the beach on their knees make the tourists gape wide eyed. This ritual is a way of showing respect to St. Sebastian. Many devotees also offer silver and gold replicas of bows, arrows and human limbs to have divine blessings. For many pilgrims coming to this place, the visit remains incomplete without a dip in the tank of St. Sebastian Church. This holy dip is considered to be very auspicious by a majority of these people. In brief, St. Sebastian Church stands for an emblem of religious unanimity.